Caring about your eyes extends to the skin around your eyes too. This month we have explored anti-aging skincare, make-up and cosmetic procedures around the eye. In part 1 of this series of blog posts we explored anti-aging skincare, click here to read.
Make-Up
Did you know? You have approx 400-500 eyelashes and they grow 0.15mm a day
Make-up is commonplace, however certain products and techniques can put your eye health at risk. Good eyecare practices include proper removal of make-up and replacing products at their use-by date.
Eye shadow, pencil eyeliner and mascara can accumulate in the tear film drainage system and under the eyelids with use over many years.
There have been reports of patients with large black lesions, presumed melanomas, removed only to find they're clumps of pigment with an inflammatory casing.
Choosing Ophthalmologically tested makeup and removing makeup before bed can prevent eye irritation.
Oil based makeup removers remove waterproof mascara and have the least effect on the tear film, yet all make up removers tested (including micellar water) reduced the tear film stability for up to 5 minutes.
TIP: Take your contacts out BEFORE removal of makeup.
Did you know? 90% of young women have used make up beyond its expiry date.
Make-up used around the eyes should be replaced every 3-6 months, yes that means mascara!
More regularly for liquid liners as higher water content means higher bacterial growth risk.
Purely solvent based or "waterproof" mascaras likely to last longer as they're petroleum based so less likely to encourage bacteria growth.
After 3 months of use bacteria was found in 30% of mascaras tested.
Did you know? Use of "kohl" eyeliner dates back to the Bronze age, approx 4000BC
"Tightlining" with eyeliner is one of the worst make-up practices for your eyes.
It actively blocks the eyelid glands openings along the upper and lower eyelid margin. This in turn can cause damage to the glands and chronic dry eye.
Research shows application of eyeliner causes acute irritation 96% of the time when applied on the inner lash line as opposed to 20% of the time when applied to the outer lash line.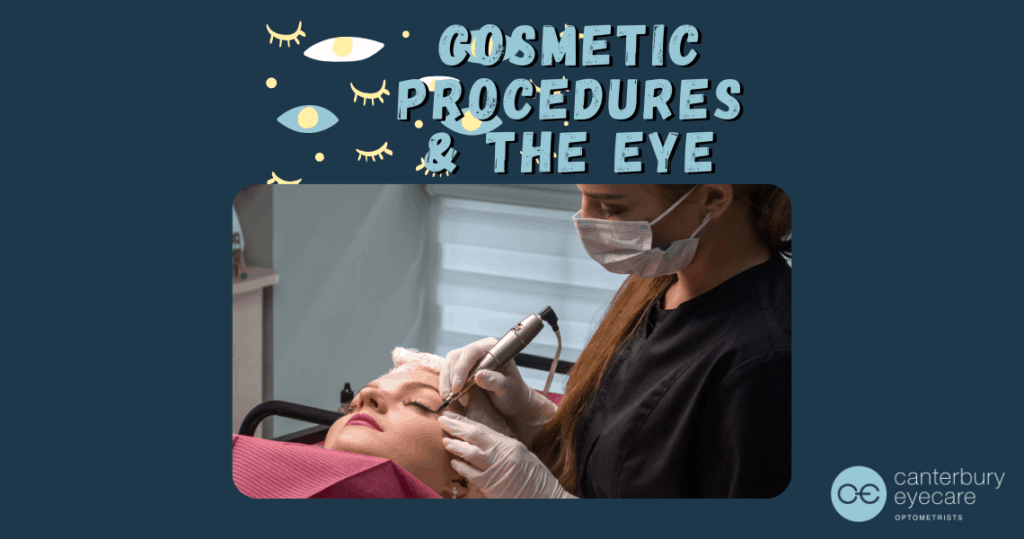 Cosmetic Procedures
Eyelid tattooing causes blockages of the eyelid glands and in turn chronic dry eye.
Eyebrow tattooing or laser can also be dangerous to the eye due to a phenomenon where the eyes roll back when closed and hence sensitive eye tissue is closer to tattoo needle and laser penetration.
Inadvertent pigmented ocular penetration (tattooed conjunctiva) after permanent eyelid tattooing has been recorded, as well as corneal burns from the numbing cream and bleeds inside the eye.
Eyelid surgery to treat drooping eyelids also has been shown to cause dry eye.
Eyelash extensions cause ocular side effects 73% of the time.
These side effects range from itching and redness to serious conditions such as toxic conjunctivitis and conjunctival erosion.
Many factors of the process such as the gel used to hold down natural eyelashes to the glue used to attach false lashes is allergy provoking. For example, the glue used is most commonly formaldehyde-emitting.
Traction alopecia has been reported
Eyelash dyes and curlers can also cause adverse effects such as allergic conjunctivitis and dermatitis.
Botox was actually first used in the eye to fix a turned eye, hence it can cause muscle paralysis of the eyes or eyelids causing eyelid droop and double vision
When used for crows feet reduction can trigger dry eye up to 5% patients. 
Facial fillers have their own risks if nerves or arteries around the eye are damaged, a stroke of the eye has been reported as an adverse outcome.