Myopia in Children and Teenagers
Myopia, also known as shortsightedness or nearsightedness, is a condition in which the eye is longer than average length and images that pass through the pupil do not meet with the back of the eye, the retina, which in turn causes blurred far vision. 
Myopia commonly develops in school aged children. Progression of myopia is more aggressive between the ages of 6 to 13 years old however can continue to progress into ages 20's or 30's.(1)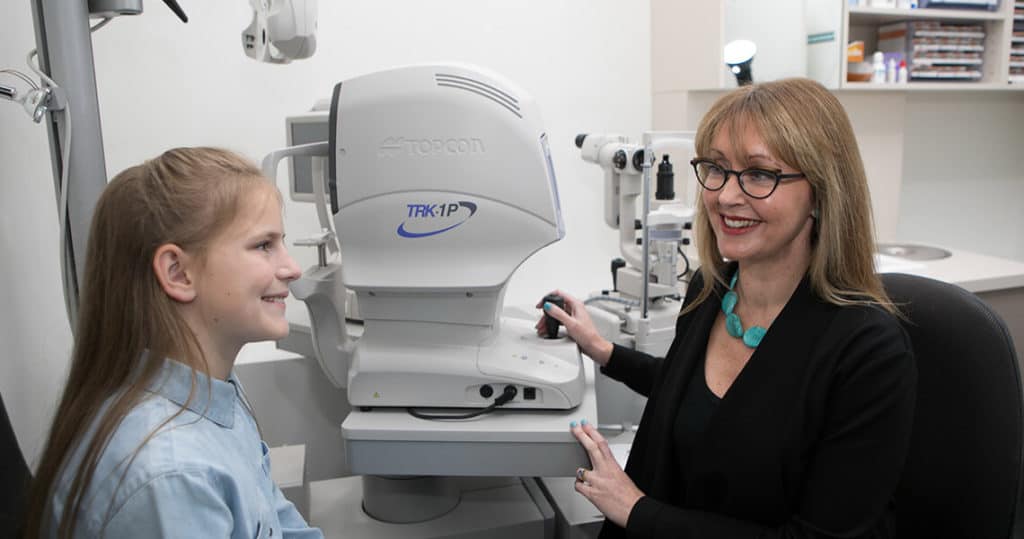 The frequency of myopia is increasing worldwide; currently there is extensive ongoing research into the causes of myopia and its progression.(1) Myopia is genetically linked however exactly how is unknown. It is estimated that if one parent is myopic the risk is 60-90% higher in the child. Most of the current research is based on a population between ages 6 and 18 years of age.
There is continuing research and ever changing theories as to exactly why myopia may progress. There is some evidence that as well as genetics, some lifestyle factors contribute to the progression of myopia. The current research has found that it is not just the increase of near tasks or digital devices but that children are spending less time outdoors. 
Research shows that the more myopic a person becomes the more at risk they are for serious eye health conditions later in life. Some of these conditions are retinal detachments, cataracts, macular degeneration and glaucoma. Current research has found that there is no level of myopia that can be considered "safe" in comparison to those who aren't myopic.
Hence, the best practice in addition to correcting vision is to also consider treatments proven to reduce the rate of myopia progression and at an earliest age possible. Another consideration is quality of life; if your child is myopic the higher the prescription = the more reliance on vision correction, which may impact lifestyle choices like sports.
There is no way to reverse myopia and interventions such as single vision spectacles or contact lenses which simply correct vision have been consistently shown to have no significant effect on slowing myopia progression. Additionally undercorrection of myopia in glasses or contact lenses does not slow myopia progression, in fact some degrees of undercorrection may encourage myopia progression.
Prior to commencing any intervention to slow myopia progression a range of tests are needed to assess treatment options then also to monitor the effectiveness of the treatment. Most of the research uses axial or eye length and the prescription measurements to monitor treatment efficacy. 
Management options for slowing the progression of Myopia
New research shows increased outdoor time is a protective factor for myopia progression. (3) Alongside myopia management options it should be encouraged for children or teenagers with progressing myopia to spend more than 2 hours outside a day with appropriate UV protection such as hat, sunscreen and sunglasses eye protection. 
Additionally a good habit to get into whilst indoors is to not hold any near work any closer than 30 cm and take frequent breaks while doing close work, every 30 minutes time should be taken to focus far away and allow the eyes to relax. Near tasks or near screen time outside of school should be limited to no more than 2 hours a day.