The Royal Victorian Eye and Ear Hospital, in partnership with the World Association or Eye Hospitals (WAEH) for World Sight Day (Thus 13th October) produced a video and fact sheets about how to put in eye drops. The video was inspired by the story of Melbourne Mum Tu Nguyen who was diagnosed with Glaucoma at age 32 a few months after becoming a new mum.
"For the first two years I lived in fear that I would never see my daughter's face again" said Tu.

She was prescribed eye drops to help reduce the pressure inside the eye. She was confronted by information related to her condition: "I was told once they go over a certain pressure and the issue is not addressed in time, my vision is gone for good".

Tu was desperate to do whatever she could to maintain her sight and was meticulous about applying her eye drops properly. "My eye drops were the difference between keeping my vision or a rapid deterioration."

"Glaucoma is the world's leading cause of irreversible blindness. It is estimated to affect 66 million people worldwide. But it can be very successfully treated with eye drops alone." said Dr Alp Atik, Glaucoma Specialist at The Royal Victorian Eye and Ear Hospital.

Since her glaucoma diagnosis, Tu has been a patient at the Eye and Ear for more than five years, and lived with Glaucoma for more than a decade. It has been an ongoing battle to manage and stabilise her condition. She has had 11 surgeries and laser treatments, losing nearly 90 per cent of her vision in her early 30's.

Tu has been a model patient, engaged in her healthcare and very compliant with her treatment. Unfortunately, she has a very aggressive form of glaucoma. "Many patients put their vision at risk by either not taking their eye drops regularly or not applying them properly. Compliance with glaucoma medications are as low as 21 per cent according to some studies[i]. Teaching a standardised technique is key to avoid unnecessary surgeries and making sure the drops are administered correctly." said Dr Atik.

Hospital data shows a 29 per cent increase of surgical patients with Glaucoma in the past 20 years.

The last resort for Tu was a procedure to insert a tube into her eye, in order to reduce and stabilise the pressure. Since this surgery, her visits to the hospital have reduced from fortnightly to every 6-8 weeks. Tu feels she has benefitted from the collaboration of a large team of eye specialists, the wealth of knowledge, experience and different perspective.
The informative 5 minute video and fact sheet give the following recommendations to effectively instill eye drops:
Check instructions to make sure you are due for your dose. Wash your hands thoroughly with soap and water for 20 seconds and dry using a clean cloth, or use hand sanitiser.
Shake the bottle if instructed. Remove the cap and place on a clean surface.
Remove glasses or contact lenses. Sit or lie down, tilt your head back and look up.
Pull your lower lid down with your index finger or pull it out between your thumb and index finger. You may rest your hand on your cheek.
With your other hand, hold the bottle upside down between your thumb and middle finger and rest it on top of your other hand, forehead, temple or nose. Do not touch your eye or eye lashes with the tip of the bottle.
Gently squeeze the bottle to apply a drop, try not to blink. Your eye can only hold one drop, if you're unsure if the whole drop went in, you can safely apply another drop. If you find it difficult to hold, aim, or squeeze the bottle, and don't have someone who can help, consider buying an eye drop aid.
Gently close your eye. Wipe off any excess solution with a clean tissue.
Place your index finger against the inner corner of your eye and nose and press gently for at least 1 minute. This helps keep the drop in your eye and reduces draining into your nose and mouth.
If you have been instructed to apply another drop of a different medication in the same eye, wait at least five minutes for the first drop to absorb before administering another drop into the same eye. Repeat these steps for the other eye, if required.
After using the eye drops, your vision may be blurred for a few minutes. Wait until your vision returns to normal before resuming any activity.
Replace the cap and store according to instructions or discard the single use container. Thoroughly wash your hands or sanitise your hands.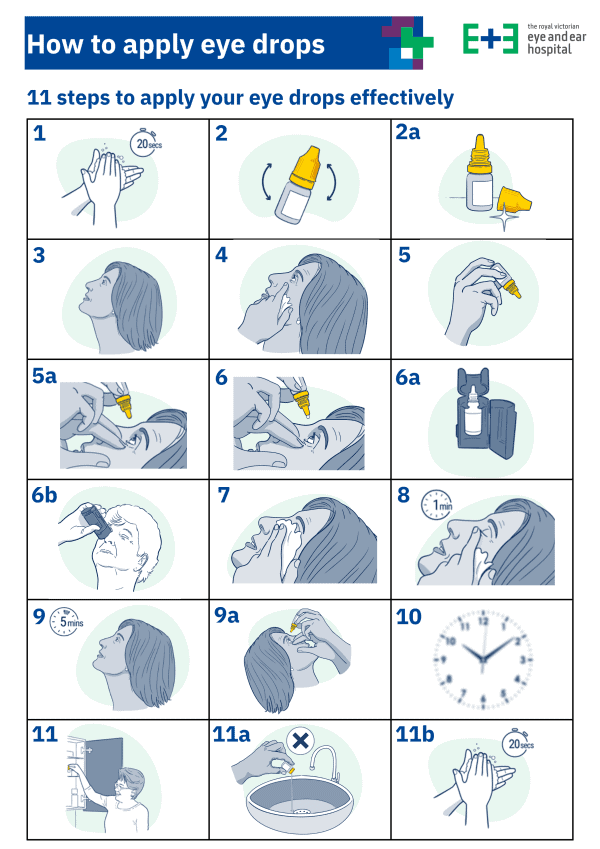 Some other tips:
Read the instructions on the label carefully and only treat the affected eye.
Only use drops prescribed to you, sharing drops can spread infections.
You can ask your pharmacist for a large print label.
Always check the expiry date before use and if using single dose units, discard the used container even if there is liquid remaining.
Complete the course or take the medicine as instructed by your doctor.
If you have difficulty using the eye drops, ask someone to do it for you.
Consider buying an eye drop aid if you find it difficult to hold, aim or squeeze the bottle and do not have someone who can help you.
Your pharmacist can help with advice on eye drop aids and hand techniques.
Set a reminder or apply drops when you do a daily task like cleaning your teeth.
If you are instructed to use drops multiple times a day, space out evenly.
If you forget to apply a dose, do not skip it, do it as soon as you remember.
Talk to your pharmacist about a medication chart to use as a visual reminder. The table below can help, if you need assistance ask your nurse, pharmacist or doctor to fill in your dosage requirements.
Check the storage instructions and keep out of children's reach.
Store the bottle upright. Keep the bottle in a cool place or as directed.
Discard the bottle four weeks after opening or as instructed on the pack.
Take leftover eye drops to your local pharmacy for safe disposal. Don't pour medicines down the drain as this pollutes our environment.
Watch the video below: